LINET Receives Innovative Technology Contracts from Vizient for Intensive Care, Labor & Delivery, and Medical Surgical Products
Multicare ICU bed, AVE 2 Labor & Delivery bed and Eleganza 5 Med Surg bed have been awarded Innovative Technology Contracts.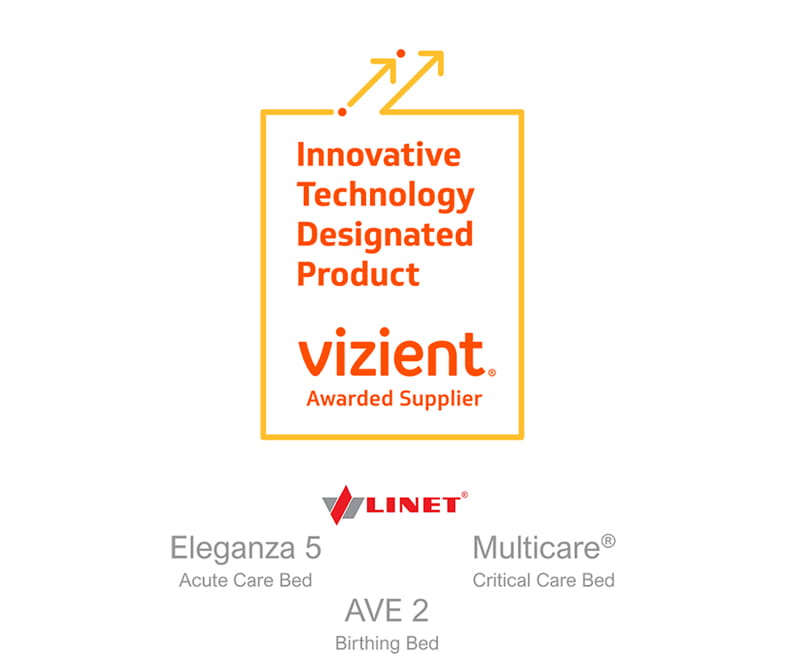 Charlotte, NC, October 4, 2019 – LINET announced its Multicare ICU bed, AVE 2 Labor & Delivery bed and Eleganza 5 Med Surg bed have received Innovative Technology contracts from Vizient, Inc., the largest member-driven health care performance improvement company in the country. The contract was based on a recommendation of these healthcare beds, intended for critical care, acute care, and labor and delivery environments, by hospital experts in these categories who serve on one of Vizient's member-led councils.
Multicare, LINET's intensive care bed, uses innovative technologies to create an ideal combination of clinical benefits for patients and staff – medical, nursing and therapy. Unique features support vital patient functions and provide excellent working conditions for staff to help minimize the risks associated with caring for high acuity patients. Innovative features include:
Programmable Automatic Lateral Therapy to treat pulmonary complications
Frame-based lateral tilt up to 30 degrees for easy patient repositioning
Passive leg raise capability to 38 degrees for sepsis protocol
Motorized patient transport with automatic fifth wheel and variable speeds to assist with movement of patients throughout the hospital
Automatic i-Brake system engages after 60 seconds to lock castors to help prevent patient falls
Ergoframe's auto-contour position helps reduce patient migration to foot of bed and reduces pressure and shear on patient's skin
Hands-free foot controls and one touch hand controls for easy product operation
AVE 2, LINET's labor and delivery bed, has many features that make the birthing process easier for both the mother and the medical staff. Thanks to its broad range of accessories and positions, the patient has the ability to choose a delivery method that best suits her birthing plan. Innovative features include:
Integrated retractable foot section for quick bed reconfiguration during labor
Easy adjustments for siderail/headrail and leg sections
Tilting U-shape seat for better patient access
Independent motorized seat tilt for more position options
Multiple articulation positions available to best suit the mother
Eleganza 5, LINET's acuity-adaptable bed, helps make routine nursing activities safer, easier and faster for enhanced nursing efficiency and better patient outcomes. Advanced features reduce the amount of stress and strain on caregivers while providing additional safety and comfort for patients. Innovative features include:
Frame-based lateral tilt up to 15 degrees for easier patient positioning and transfers
Ergoframe's auto-contour position to reduce patient migration to foot of bed and reduce pressure and shear on patient's skin
Built-in patient sit-to-stand assist for easier ingress/egress to assist with early patient ambulation
"We are humbled and honored to have been awarded Innovative Technology contracts for these three products. This award from Vizient validates the level of clinical excellence LINET brings to the market," said Colin Bain, President and CEO of LINET Americas.
"Hospitals and providers are looking for innovations that offer unique and cumulative benefit over other products available on the market today. Our member council determined these technologies met the criteria to be awarded with the Innovative Technology contract. Congratulations to LINET on receiving this status," said Debbie Archer, director of procurement and Vizient Innovative Technology Program leader.
Vizient represents a diverse membership base that includes academic medical centers, pediatric facilities, community hospitals, integrated health delivery networks and non-acute health care providers and represents approximately $100 billion in annual purchasing volume. Through its Innovative Technology Program, Vizient works with member-led councils and task forces to review potentially innovative products. If it is determined that a product is innovative, Vizient may award a contract outside of the competitive bid cycle.
###
LINET Founded in 1990, LINET is an international leader in healthcare technology with patient beds installed in over 100 countries. Considered one of the most dynamic companies in the healthcare field, LINET offers a new and unique approach to the hospital bed market. LINET manufacturers innovative beds for the ICU and Medical-Surgical, Labor & Delivery, One-Day Care, and Long-Term Care environments that promote patient and nurse safety, facilitate early mobilization, assist in better adherence to turning schedules, improve pain management and help reduce infection rates. The company's U.S. headquarters is based in Charlotte, NC. Please visit http://www.linetamericas.com for more information.