LINET achieves Great Place to Work Certification
LINET was certified as a great workplace by the independent analysts at Great Place to Work®. LINET earned this credential based on extensive ratings provided by its employees in anonymous surveys. A summary of these ratings can be found at http://reviews.greatplacetowork.com/linet-americas.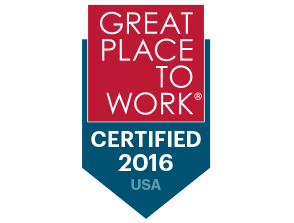 "The Great Place to Work certification achieved by our team at LINET further solidifies the rich culture that runs through the veins of our organization," said Kelly Corn, Human Resources Manager.

Colin Bain, President and CEO reacted by saying, "Our team operates on a set of values that shapes everything that we do in our business. We have a strong sense of purpose to improve the way healthcare is being delivered today. Our team is passionate about our cause, and this is what makes LINET a very special place."

"We applaud LINET for seeking certification and releasing its employees' feedback," said Kim Peters, Vice President of Great Place to Work's Recognition Program. "These ratings measure its capacity to earn its own employees' trust and create a great workplace - critical metrics that anyone considering working for or doing business with LINET should take into account as an indicator of high performance."

About Great Place to Work®
Great Place to Work® is the global authority on high-trust, high-performance workplace cultures. Through proprietary assessment tools, advisory services, and certification programs, including Best Workplaces lists and workplace reviews, Great Place to Work® provides the benchmarks, framework, and expertise needed to create, sustain, and recognize outstanding workplace cultures. In the United States, Great Place to Work® produces the annual Fortune "100 Best Companies to Work For®" list and a series of Great Place to Work® Best Workplaces lists including lists for Millennials, Women, Diversity, Small and Medium Companies and over a half dozen different industry lists.

About LINET
Founded in 1990, LINET is an international leader in healthcare technology with patient beds installed in over 100 countries. LINET offers a new and unique approach to the hospital bed market. LINET manufacturers innovative beds for the ICU and Medical-Surgical environments that promote patient and nurse safety, facilitate early mobilization, assist in better adherence to turning schedules, improve pain management and help reduce infection rates. Our products also come with an unprecedented 5-year warranty. The company's U.S. headquarters is based in Charlotte, NC. Please visit http://www.linetamericas.com for more information.