The LINET Americas Story
They say a journey of 1,000 miles must begin with one step, one action. In our case, the journey began with the purchase of a simple farmhouse, which lay in ruin, 4600 miles from Charlotte. This is the story of LINET Americas and the journey from our humble beginnings to where we are today.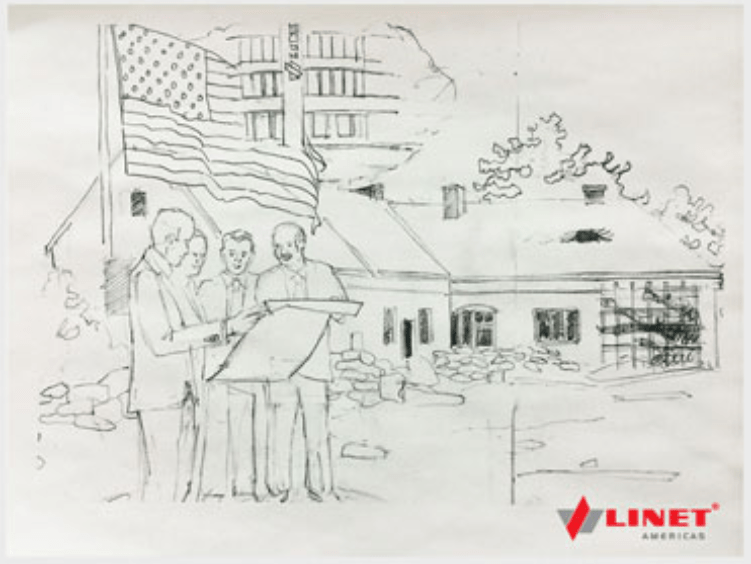 The LINET story is a true entrepreneurial journey that started in 1990 in a small town in the outskirts of Prague, Czech Republic. Our founder, Zbyněk Frolík worked as a technical director and facilities manager in the largest hospital system in the Czech Republic. It was there he saw an opportunity to create a better hospital bed, a bed that through technological innovation could make a nurse's job easier and advance patient safety. And in that idea, the foundation of LINET was born.
The start of LINET consisted of one simple investment, equivalent to $10,000, which was used to purchase an abandoned farmhouse. The farmhouse, which remains part of the LINET manufacturing facility today, was converted into a hospital bed production plant. Each year, LINET has reinvested earnings from the company to
expand its operational footprint, totaling over 330,000 square feet today.
The focus and spirit of LINET product development is to truly innovate – to create an object of desire for our customers and ultimately our patients. We offer something above and beyond the status quo. Mr. Frolík saw the value of gaining customer input when thinking through each design decision. Market research and first-hand customer feedback continue to drive key decisions. Caregivers and hospital staff have a say in what they want to see improved and ideas are taken directly from their countless hours of experience.
Modernization takes hard work, dedication and determination. Deviation from the norm requires risk and trust in customer feedback. Innovation is not easy, yet LINET prevailed and today, is driving positive change in healthcare throughout the world. Customers quickly began to react to LINET. Business began to grow and expand. LINET soon became the number one bed producer in Europe, no small feat with many cultural differences throughout the continent. In 2004, Mr. Frolík was voted finalist for World Entrepreneur of the Year with the likes of Bill Gates and Steve Jobs for his role in LINET's ground-up growth. Today, over one million frames have been installed worldwide.
Throughout this unprecedented growth, LINET's vision remains laser-focused on improvement and innovation with a customer-centered approach.
In 2010, LINET made the not-so-easy decision to expand to the United States, a market notorious for its large size and one that holds many challenges to entry. The American headquarters opened in Charlotte, North Carolina under the leadership of Colin Bain, President and CEO. Colin has taken the time to develop a dynamic team and strong company culture, transferring Mr. Frolik's personal enthusiasm for the company and establishing a vision for the future.
Here at LINET Americas, as we surpass 4 years in the USA, we see caregivers and hospital staff reacting very positively toward our presence in the market. They welcome the opportunity to evaluate something new, different and that positively impacts patient care – without burdening their already tight budgets.
We take great pride in our products and command a belief that we are making a difference – not only for caregiver efficiency, but to nurse and patient safety. As a company we have learned that a entering a new market is never an easy path and we must rely on continuous improvement for the customers that depend on us. We are excited to be on this journey and look forward to the rewards and challenges that lie ahead as we help develop the future of healthcare.
To learn more about LINET, visit www.linetamericas.com or join us on social media.